
Spectrometer- Andor Mechelle 5000
Andor's new Mechelle ME5000 spectrograph has been designed to provide simultaneous recording of a wide wavelength range (200-975 nm) in one acquisition. It has no moving components is available in a pre-aligned detector/spectrometer format. The Andor Mechelle spectrograph is based on the echelle grating principal and its patented optical design provides extremely low cross-talk and maximum resolution compared with other spectrographs.

Specifications:
Wavelength range (nm): 200 – 975
Focal length (mm): 195
Aperture: F/7
Spectral resolution (λ/∆λ): 4000
Wavelength accuracy: Better than ± 0.05 nm


UV-VIS Spectrophotometers (PG Instruments T90+ and Perkin Elmer-Lambda 5)
Technical details:
A high-performance diffraction grating spectrophotometer with a Czerny Turner Mounting with a Holographic Grating keeps stray to a minimum and offers excellent optical resolution over a wide spectral range.

Excitation sources: Tungsten and Deuterium lamps.
Detectors: The use of photomultipliers as detectors offer exceptional sensitivity.
Acquisition & control software: The PGI UVWin user friendly operating software operating on a Windows platform offers many operational and data processing capabilities.
Accessories: Integrating sphere (diffuse reflectance), Specular Reflectance Accessory, Peltier module (5°C - 65°C), Micro Cell Holder.

Performances:
Spectral range: 190-900nm
Spectral Bandwidth: 0.1 nm, 0.2 nm, 0.5 nm, 1.0 nm, 2.0 nm, 5.0 nm
Wavelength precision: ± 0.3 nm (automatic correction)
Experiment types: Absorbance (A), Transmittance (%T), Reflectance (%R), Concentration.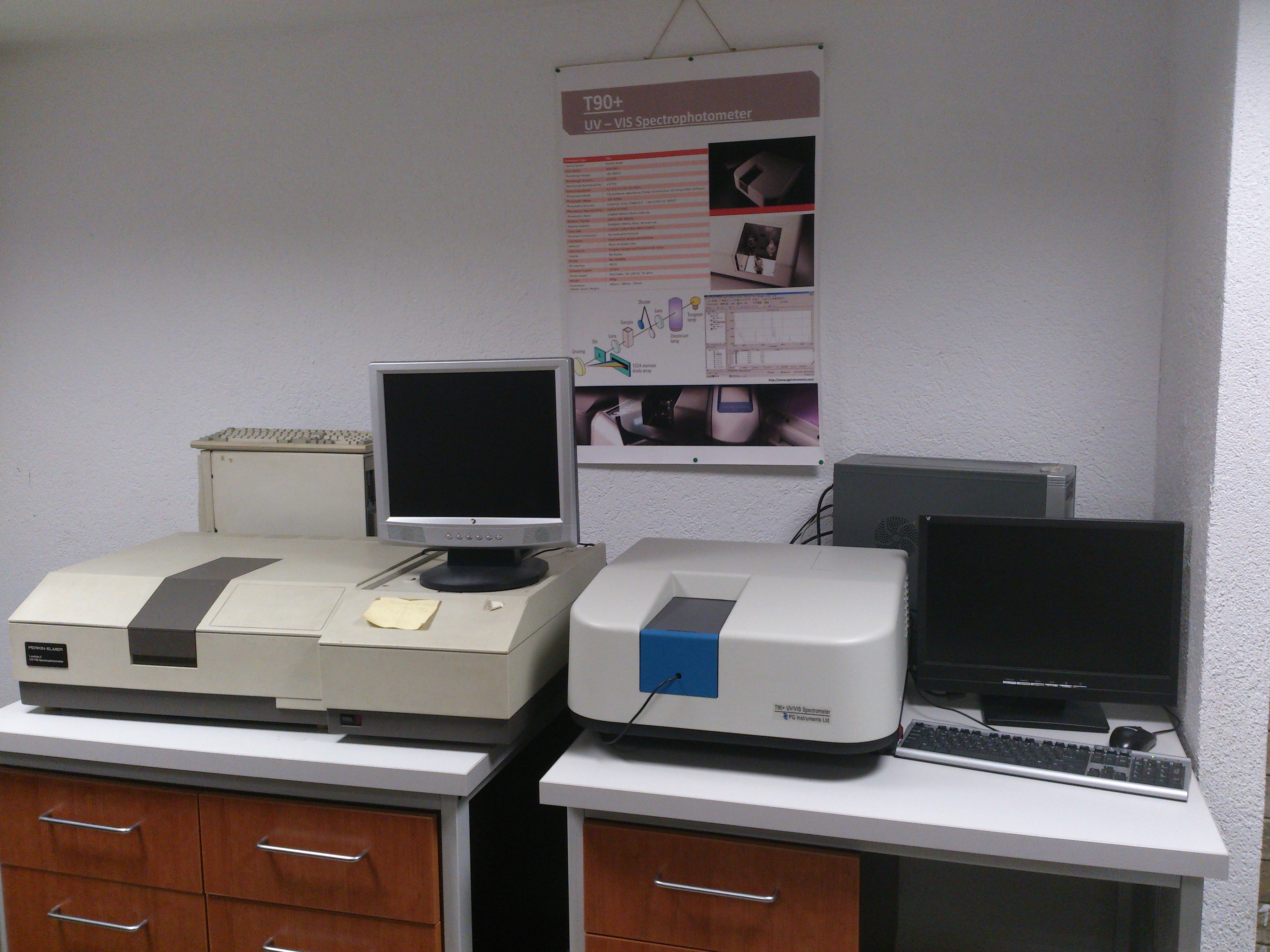 
Low Temperature optical investigation setup
This setup is suitable for optical reflectivity and transmission measurements. The setup is formed of an optical Nitrogen bath cryostat (Oxford OptistatDN) (77-500K) and a stabilized QTH (Quartz Tungsten Halogen) light source (100 W) with various interferential filters (from 400 nm to 900 nm). The transmitted/reflected beam is recorded via a photodiode. The temperature is controlled via an Oxford ITC503 Controller.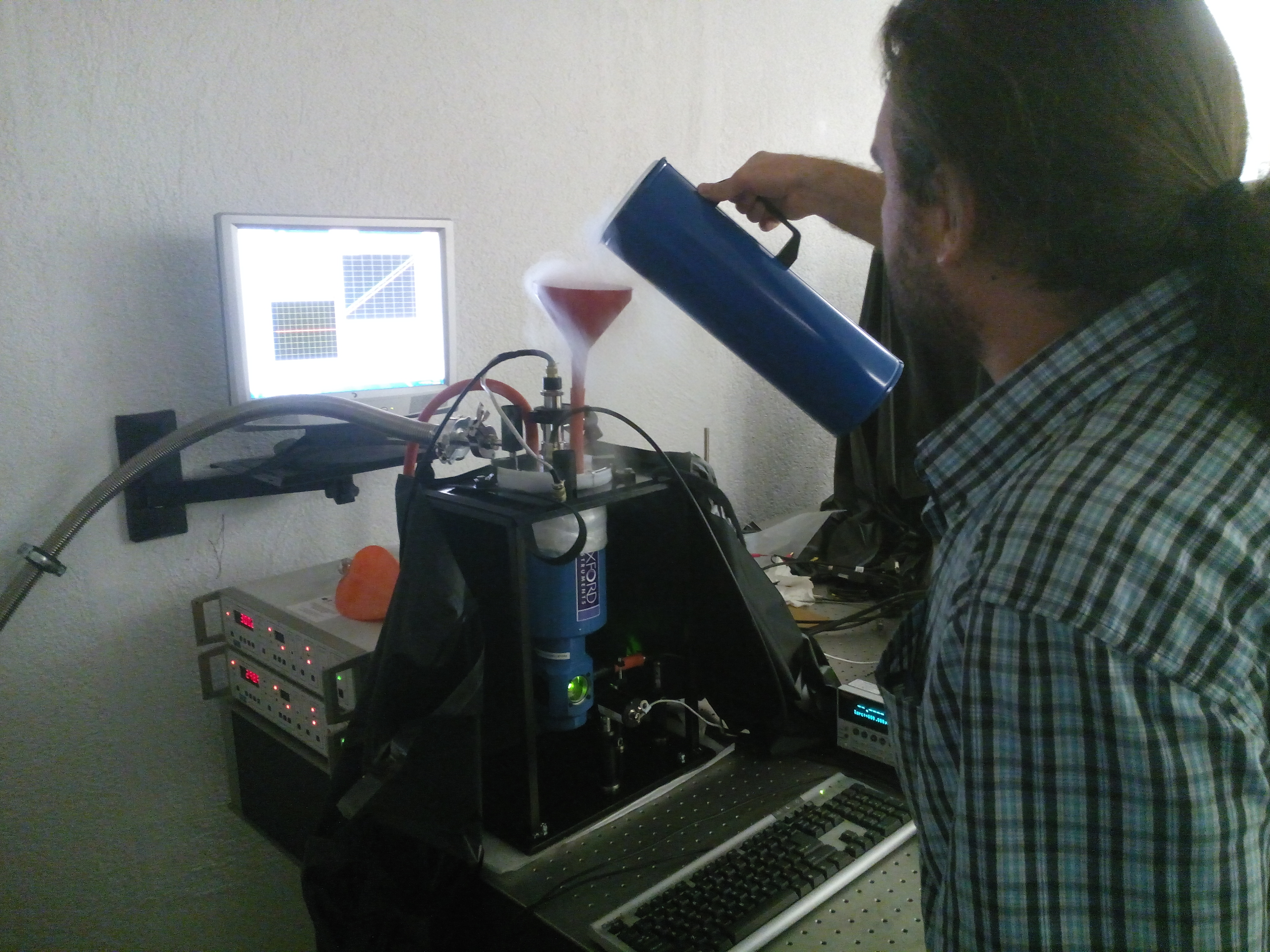 
Fluorescence Microscope Olympus BX51
Technical details:
- Reflection, transmission and fluorescence microscopy;
- Polarized light microscopy with variable temperature stage (77 K – 873 K), interferential filters;
- CCD Camera (5 Mb), Ocean Optics UV-Vis-NIR spectrometer (200 nm-1100 nm).


Stereomicroscope – Motic SMZ168
Technical details:
- Greenough zoom optical system;
- Trinocular head, 35º inclined, 360° rotating;
- Widefield eyepieces WF10X/23mm;
- Magnification range: 0.75X-5X;
- Large platform stand;
- CCD Camera.

The Stereomicroscope can be used in various applications from industrial quality control, electronic circuits investigation to biological preparation work, allowing an easy manipulation of the sample due to its big working distance of 113 mm.