
Raman spectroscopy: Model Horiba LabRAM HR Evolution
The LabRAM HR Evolution systems are ideally suited to both micro and macro measurements, and offer advanced confocal imaging capabilities in 2D and 3D. The true confocal microscope enables the most detailed images and analyses to be obtained with speed and confidence.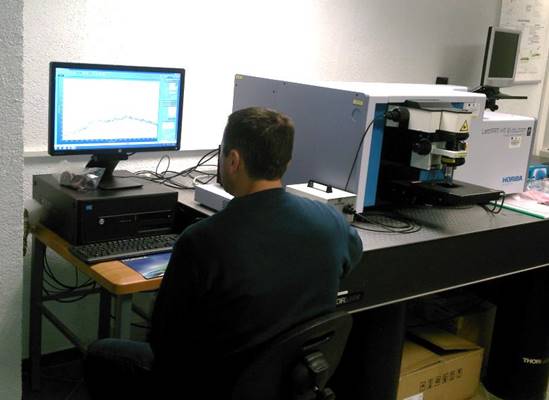 
FT-IR spectroscopy: Model PerkinElmer Spectrum Two™
Spectrum Two™ is the IR spectrometer is suited to everyday analysis, you can confidently perform fast, accurate IR analysis and assure the quality of your materials across a wide range of applications. Breaking new ground in operational simplicity, Spectrum Two combines superb performance with a low maintenance design.
Features:
• Wave Length Range: 8.300 – 350 cm-1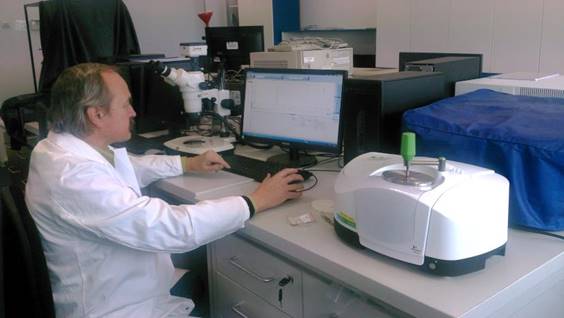 
Fluorescence spectroscopy: PerkinElmer LS 55 Fluorescence spectrometer
The PerkinElmer LS 55 Fluorescence spectrometer offers flexibility, versatility, reliability and ease-of-use. Based on our popular LS-50B, the LS 55 spectrometer includes a host of auto-mated accessories and software to address a wide range of bio research applications. The LS 55 is built on PerkinElmer's heritage of sensitivity and reliability.
A wide range of automated accessories have also been developed for the system making it the system ideal for bioresearchers conducting:
• Microplate-based measurements
• Polarization
• Anisotropy assays
• Intact cell work
• Analysis of protein suspensions

Measurement modes for the LS 55:
• Fluorescence, phosphorescence and bio- and chemi-luminescence-measurement modes
• Excitation, emission, constant wavelength synchronous, and constant energy synchronous spectral scanning
• 3D excitation/emission scans, 3D synchronous and kinetic scans
• Microplate measurements with fixed wavelength, wavelength program or automated spectral data collection
• TLC plate, electrophoresis gel or other flat sample types can be analyzed with our Plate Reader accessory
• Single and multiple wavelength kinetics
• Simultaneous kinetics for multiple samples
• Simple quantitation by curve fitting with a number of fit algorithms
• Intracellular ion analyses

Features:
• Source: Xenon flash lamp, pulsed at line frequency (50 or 60 Hz). Pulse width at half peak height < 10μs, power equivalent to 20 kW at continuous operation. Delay (td) and gate time (tg) can be varied to measure phosphorescence. Source can be turned off for measuring chemiluminescence and bioluminescence
• Optics: Monk-Gillieson type monochromators using low stray light, holographic gratings cover the following ranges: Excitation 200-800 nm with zero order selectable Emission 200-650 nm with zero order selectable (standard photomultiplier) 200-900 nm with zero order R928 photomultiplier (optional) Synchronous scanning is available with constant wavelength or constant frequency difference. Excitation spectra are automatically corrected. An excitation filter wheel is incorporated into the optical unit and inserts a 390 nm cut-off filter as an excitation spectrum is scanned through 410 nm. Excitation and Emission Polarizers consisting of 2 filter wheels, each with horizontal and vertical polarizer elements are included.
• Wavelength accuracy: + 1 nm
• Wavelength reproducibility: + 0.5 nm
• Spectral bandpass: The excitation slits 2.5-15 nm and emission slits 2.5-20 nm can be varied and selected in 0.1 nm increments.
• Scanning speed: The scanning speed can be selected in increments of 1 nm from 10–1500 nm/minute. Data can also be collected with respect to time.
• Emission filters: Computer selectable cut-off filters, 290, 350, 390, 430 and 515 nm, a blank (to act as a shutter), a 1 % attenuator, and a clear beam position.
• Sensitivity: Minimum signal-to-noise level using the Raman band of water, excitation 350 nm, is 750:1 RMS measuring noise on the Raman peak, and 2500:1 RMS measuring noise on the baseline.